Search Bar
A successful investment journey starts with finding a wonderful company at a fair price. Our Search Bar helps you discover such great companies in just seconds. You can search by company name, stock symbol, industry and even investment strategy. Follow our guide below to see how it works.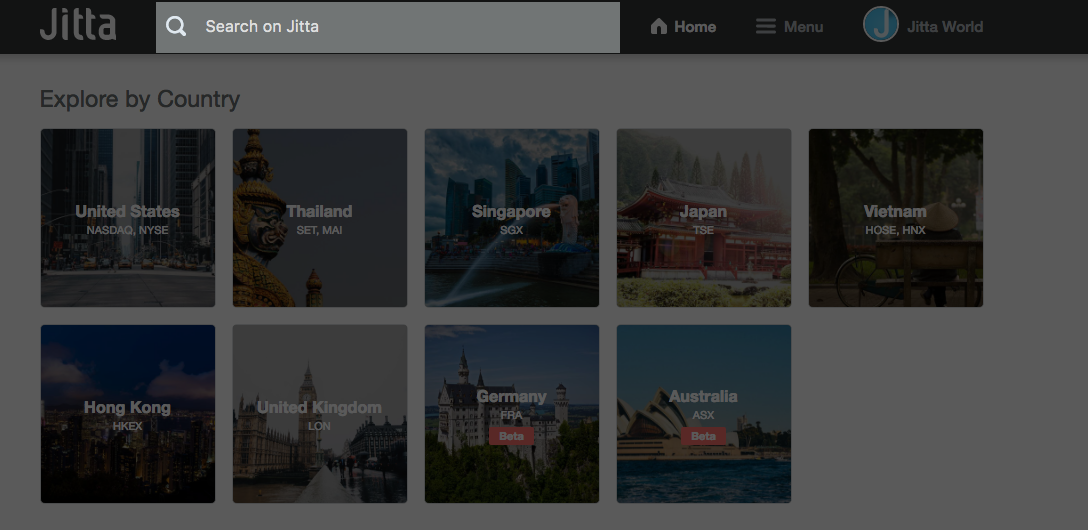 At the top of HOME, you'll see a black Search Bar. Click next to the magnifying glass icon.

Type in a company name or stock symbol and you'll see a list of suggested search results.

Click on the company you're interested in.

To cancel the search, click X.

You can search by industry as well, including:

Financial
Services
Technology
Healthcare
Energy
Basic Materials
Capital Goods
Consumer Cyclical
Consumer/Non-Cyclical
Transportation
Utilities

Conglomerates

You can also search by the name of each Featured Playlists, pre-set screening criteria Jitta has prepared for everyone based on popular investment strategies, including:

Dividend = Stocks likely to pay consistent or increasing dividends.
Cash cow = Stocks with consistent cash flows from operating activities/
Share buy-back = Stocks that buy back common shares, leaving you with a larger share of the profits.
Cigar butt = Decent stocks that are highly undervalued.
Turnaround = Mediocre stocks with positive signs of improvements within the past three quarters.

Growth = Undervalued stocks whose net profits have been surging for the past three years.

You'll see a list of stocks that fit your interest. You can narrow down the result further using the screener on the left side of the page.